Roll over image to zoom in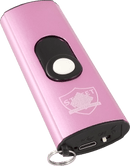 Description
Exclusive Offer - the perfect mini key-chain stun gun with stylish purse wallet holster, sold here only! The USB Secure high powered Stun Gun includes both 22 million volts of stopping power and LED flashlight. Easy to use, well designed slide center button activates the stun or if you need light the LED flashlight.
When not in use safely store your stun gun using our Exclusive Purse Wallet Holster.
Safety Features:
Prevents self-stuns when reaching into your purse, bags, backpacks verse an exposed stun gun unprotected

Prolongs the life of your stun gun probes from damage being exposed

Reduced risk for unauthorized use of stun gun. Others will never know what is inside

Keychain Option - attach house or car keys to ensure you never leve home without your stun gun
Features:
Small Size, Big Stun: Although the USB Secure is less than half the size of most stun guns, it has more power than most models on the market today. Just test firing this unit into the air is often enough to stop an attacker.
Pushbutton Switch: Standard stun guns use a button on the side to activate the stun gun. This model features a large press button - easy to activate, even while wearing gloves!
Attaches to Your Keys: When the need arises to protect yourself, you don't want to be fumbling around to find your stun gun. With it attached to your keys, you don't need to be concerned about it getting stuck at the bottom of your purse. You will have it in your hand when walking to your home or car and will be ready to protect yourself at a moment's notice.
Easy to Conceal: Easily slips into your pocket or can be concealed in the palm of your hand.
Micro USB Charging Port: Charging the unit is simple. You can use the included USB charging cord in your computers USB port or use your own wall block in an electrical outlet or car charger when on the go.
Overcharging Protection: Protects unit in the event you leave it plugged in too long.
LED Flashlight: Provides a convenient source of light whenever you need it. Simply slide the switch forward to activate the flashlight.
Tough Exterior: Shell is constructed of rugged, lightweight aircraft aluminum to protect the product that protects you.
Lifetime Warranty: You can purchase with confidence. The USB Secure Keychain Stun Gun is made by Streetwise Security Products, the leader in the stun gun industry using the highest quality components and comes with a lifetime warranty.
Contents:
USB Secure 22,000,000 Keychain Stun Gun - Blue

Built in Key Chain

USB to Micro USB Charging Cord

Stylish Black Keychain Purse Wallet-Holster

Instructions
Payment & Security
Payment methods
Your payment information is processed securely. We do not store credit card details nor have access to your credit card information.
---
Security