Roll over image to zoom in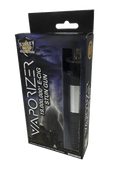 Description
 It is only about 6.25 inches long but packs the power normally found in units twice its size.
Features:
Discrete Protection: Designed to look like an Electronic Cigarette, this model enables you to catch your attacker off guard and gives you the element of surprise that is often needed to safety defend yourself.
Easy to Carry and Conceal: At 6.25" long and a diameter slightly larger than a quarter, this unit is easy to carry and conceal.
Shock Proof Exterior: Military Grade aluminum alloy protects the unit from damage so it can always be ready to protect you.
No Slip Grip: Etched ribbed handle ensures a firm grip.
Blinding 1 Watt LED Light: Not only will the flashlight safely illuminate the entire area at night, but it can also help to protect you. When shined in the eyes of an attacker, the ultra-bright light can have a temporary blinding effect making it easy for you to immobilize them with the stun.
Economically & Environmentally Friendly: The stun gun and flashlight are fully rechargeable and the light bulb has a life of up to 100,000 hours.
Safety Feature: In order to prevent accidental discharge a safety switch is discreetly located on the side of the unit.
Rechargeable: The included USB cord allows you to charge the Vaporizer using your computer or home outlet using the standard wall block (included).
Lifetime Warranty: This unit is made of the highest quality components and comes with a lifetime warranty.
It is only about 6.25 inches long but packs the power normally found in units twice its size. Even when test fired, the loud bright electrical burst is often enough to stop an attacker and if not a jolt from this unit certainly will!

Please note that this is not a real E-Cig, the only "smoking" this unit will do is to the bad guy that gets too close! With this new model protecting yourself is easy….just "VAPE and Escape."
Includes:
Streetwise Vaporizer Electronic Cigarette 19,000,000- Black

USB Recharging cord

Instructions

Wall block
Payment & Security
Payment methods
Your payment information is processed securely. We do not store credit card details nor have access to your credit card information.
---
Security