Roll over image to zoom in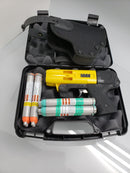 Description
Using a patented propulsion system launches a high grade Oleoresin Capsicum pepper resin solution faster than an any pepper spray and up to half the speed of a bullet at 590 fps.

Features:

Limits liability associated with discharging a firearm / shooting an attacker or burglar.
Looks and works like a gun
Can carry in places you can't carry a gun*Not considered a firearm by ATF
Holds 4 shots (included) of exceptionally potent liquid can disable an attacker at least 45 minutes
Superior to tear gas even when used against attackers under the influence of drugs
Quickly re-loadable (refills available)
Light enough to carry easily (about 12 oz.)
23' range. . . you don't need to be close to your attacker
Accurate using the sites as opposed to trying to spray someone with a little canister
Police grade, serious solution at 400,000 Scoville Heat Units
Less affected by wind. No blow-back like with conventional spray
Not susceptible to heat or cold
Doesn't need to be shaken like an aerosol
Waterproof
Shockproof
No batteries to charge
Can be fired in a wet environment without issue
No accidental misfires due to early electronic discharge
Extremely effective for animal control
Measures: 7.57" L x 1.38" W x 3.46" H for easy carry or concealment
Practice cartridges that fire water and dye available for the JPX
Contents:

1 FIRESTORM JPX 4 COMPACT Pepper Gun Black includes 4 cartridges
1 Set of Inert Practice Cartridges
1 Retention Paddle Holster
1 Plastic Gun Case
OC oleoresin capsicum irritant agent and its effects in conjunction with Jet Protector Technology Oleoresin Capsicum (OC) is an extract of the cayenne pepper plant. OC is the most effective inflammatory agent available today, and is successfully used by law enforcement professionals around the world.  OC has proven superior to both CS and CN tear gas when used against assailants under the influence of drugs or alcohol, as well as against psychotics.
The inflammatory agent fired from the Jet Protector products is immediately effective upon contact with the face of an aggressor. The high velocity of the liquid jet as well as the inflammatory effects of the OC agent instantly interrupt forward movement.
The OC works rapidly as an inflammatory agent to the eyes, mucous membranes and respiratory system. The result is temporary blindness, coughing and nausea with extreme discomfort. The eyes of the aggressor immediately shut, and the high velocity of the jet ensures that the agent will penetrate behind eye glasses, through cloth masks and other masks with eye openings. This temporary blindness leads to instant incapacitation and can last for about 45-60 minutes. Symptoms will disappear, usually with no after-effects.
Warning: The minimum safe discharge distance is 5 feet from the tip of the magazine to the target.  Each owner's manual describes specific safety protocols to follow.  READ YOUR MANUAL BEFORE USING YOUR FIRESTORM JPX 4.
Payment & Security
Payment methods
Your payment information is processed securely. We do not store credit card details nor have access to your credit card information.
---
Security