Roll over image to zoom in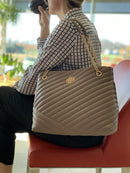 Description
Exclusive Bulk Wholesale Discount Bundle Package Option:
MSRP $591.98

Cost $380.99
Profits $210.99
ROI 42%
Flora Conceal Carry Handbag Purse
The Cameleon Flora gives you everything you need in a compact personal protection purse. The size allows you to minimize what you carry, while still allowing you to stay prepared. Style and Functionality are not sacrificed with the Flora. We have designed the Flora to be your Personal Protection Purse. We have included the Cameleon Tail to hold your Pepper Spray or Mace, and each bag comes with a secure holster for your firearm.

Flora is vegan leather, quilted tote featuring an open-top with snap tab closure and gold medallion detail. It has parallel, vegan leather handled, curb chain straps, and expanding side panels with snaps.

Flora has two large compartments and an additional, central, individual CCW pocket with top zipper access.

One compartment contains two open phone pockets, and the other has a zipper pocket featuring a removable, 10-inch strap with a dog hook for keys.

The CCW compartment is padded, with velcro lining on one side, and comes equipped with a matching holster with velcro on either side to allow you to personalize the placement within the pocket for maximum comfort and confidence while carrying. Holster Included.
Features:
Access Type:

 

Center CCW Compartment with Top Access + zipper closure, Padded with Velcro on one side
Dimensions:

 

11" x 13.25" x 5.5"
CCW Compartment:

 

9" x 8"
Handle:

 

8.5" Fit
Strap:

 

Length 49"
Contents:
Flora Conceal Carry Handbag
Taser Pulse Plus Noonlight
Personal safety has never been more complete with the TASER Pulse+ device. Weighing in at just 8 ounces, this high-tech, intuitively-designed device is revolutionizing the self-defense market and helping people go wherever they want with more confidence. Your Pulse+ has an ideal 15' shooting range and can provide a 30-second muscular override to would-be attackers.
It also integrates with Noonlight, a safety platform that wirelessly connects your Pulse+ device to your phone. Backed by live dispatchers, Noonlight will send emergency personnel to your location whenever your Pulse+ is fired. Every Pulse+ device comes with our Safe Escape device replacement when fired under duress. This is the sidekick you've always wanted.
Features:
POWERFUL PROTECTION: 30-second muscular override gives you time to get away. Contact stun capabilities for close-range interactions.
EMERGENCY DISPATCH: Your TASER Pulse+ purchase comes with a free trial of  Noonlight, which can dispatch emergency teams to your taser gun GPS location upon firing.
SAFE ESCAPE GUARANTEE:

 

We will replace your TASER device free of charge if fired in self-defense. 
LESS-LETHAL DEFENSE: We believe that less-lethal self-defense is better self-defense. Protect what matters with fewer consequences and more peace of mind. State regulations vary, so consider your state before purchasing.
DURABILITY: The ultimate sidekick, the TASER Pulse+ housing is made from a high-impact polymer (known for its incredible durability) ensuring the internal of the TASER Pulse+ remain functional while also having a comfortable, textured grip.
LIGHTWEIGHT:  Weighing just 8 ounces, it's easy to forget you have professional-grade protection within reach. The TASER Pulse+ is light enough to carry anywhere and allows you to carry fewer worries along the way too.
YOU JUST FIRED YOUR TASER PULSE+. NOW WHAT?
Step 01: Get to Safety
Drop your Pulse+ device and get to safety. Noonlight is already reaching out to emergency services.
Step 02: Noonlight will Text and Call You
Answer if you can. You may also cancel the alarm at this point, or talk directly to 911.
Step 03: Just Wait
Help is on the way.
Contents:

Pulse+ Device
2 Live Cartridges
Easy-to-Replace CR123 Batteries
Conductive Practice Target
Mobile Requirements: iOS app supports iOS 8+ and the Android app supports API level 19+ (Android 4.4 KitKat). Your Pulse+ purchase comes with Noonlight; check the Noonlight website for more information.
Payment & Security
Payment methods
Your payment information is processed securely. We do not store credit card details nor have access to your credit card information.
---
Security