Roll over image to zoom in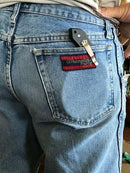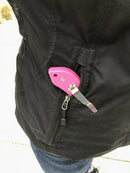 Description
Exclusive Bulk Wholesale Discount Pricing:
MSRP $371.40
Cost $209.70
Profits $160.70
ROI 45%
Fast Strike Self Defense Whip
Fast Strike is an easy-to-use product and is even effective against large dogs and other aggressive animals. It features a reinforced striking cable that allows you to deliver multiple blows in a matter of seconds without self-striking. Strikes will be extremely painful and are sure to subdue and deter any threat.
If you want to stay safe, you'll find no better product than Fast Strike. Here are three reasons to order this potent personal protection device:

Fast Strike allows you to strike from a distance, preventing the aggressor from grabbing onto you.
Fast Strike is small enough and lite enough to wear inside of clothing, attached to a belt or simply clipped onto any purse, back pack or bag. 
Fast Strike requires no special training or special techniques to be used effectively. Simple Self-Defense for anyone.
Effective Self-Defense When You Need It Most 
Jog or hike in remote areas?
Attend or visit college campuses?
Worry about walking to your car at night?
Worry about aggressive dog or other animal attacks?
Do you want to keep yourself safe from robbery or attack when you're alone and at your most vulnerable?
If so, Fast Strike is the product for you. As a simple and safe self-defense product, Fast Strike will give you the power you need protect yourself in various situations. With this powerful product in your possession, you'll feel renewed confidence that you can effectively protect yourself in various situations as you go about your day.
Contents:
Colors:
Payment & Security
Payment methods
Your payment information is processed securely. We do not store credit card details nor have access to your credit card information.
---
Security