Roll over image to zoom in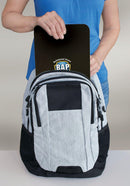 Description
Product Description and Specs:
UL752 level 3 bullet resistant ballistic plate

Offers protection to vital body organs

Ideal solution for inserting into your favorite backpack

Dimensions: 8" x 13" x 0.25"

Weighs: 1 lb. 15 oz.
Backpack Ballistic Protection
 - The BAP Plates are easy to carry, fits inside backpacks and computer bags, and can provide protection to vital body organs. 
Can stop including:  .44mag, .357, .38SPL, 10mm, .45ACP, .40S&W, 9mm, .380 cal or .22 cal bullets, .40 S&W, .357 magnum, .44 magnum, .223, 7.62 and 5.56
Piece of mind for less than a Benjamin
For less than $100 you can slip this plate into your man sling or backpack. Think of it, you now have 104 in.² of protection. I have a big heart and it's nice to know that I can hold this in front of me and be protected. It is not as heavy as I thought it would be. An excellent purchase. If you love someone (or even yourself) this should be a no brainer purchase!
Payment & Security
Payment methods
Your payment information is processed securely. We do not store credit card details nor have access to your credit card information.
---
Security